European Action for Global Impact
The third 'Sustainable Palm Oil Dialogue: European Action for Global Impact' focuses on how actions in Europe can help accelerate global impact in palm oil producing countries and throughout the palm oil supply chain.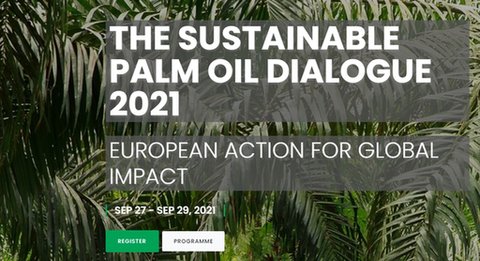 The Dialogue is co-organized by IDH, The Sustainable Trade Initiative and the European Palm Oil Alliance (EPOA) and sponsored by the Roundtable on Sustainable Palm Oil (RSPO) and the Consumer Goods Forum (CGF) Forest Positive Coalition of Action.
The virtual conference will take place on Monday 27, Tuesday 28 and Wednesday 29 September 2021. Each day will involve a digital session with a specific focus:
Monday 27 at 12:30 – 14:30 CEST:
Beyond the 2020 milestone: crucial actions to make sustainable palm oil the norm
Tuesday 28 at 12:30 – 14:30 CEST:
Enhancing social impact in the palm oil sector
Wednesday 29 at 12:30 – 14:30 CEST:
Accelerating forest positive action in the palm oil sector
To view the complete programme click here.
Our annual Sustainable Palm Oil Dialogue will provide an open and inclusive platform to discuss not only the challenges but also the opportunities to move toward full market transformation to sustainable palm oil in Europe, as well as increasing global impact and contributing to the UN SDGs.
To register click here.
Registration closes on 20 September 2021. Instructions on how to join and your login details will be sent to you prior to the event. You will also be able to access the platform a week before the event for networking opportunities and to download resources.

For questions, please contact Jolanda van Roon or Margaux Duchâtel through event@SPODEurope2021.eu.